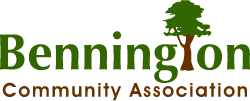 ​

Bennington Community Association
29 Goodport Ln, Gaithersburg, MD 20878
(301) 977-3376
Mission​
It is the responsibility of the Architectural Review Committee to see to it that the yards and exteriors of the homes in the community are maintained, and to approve all buildings, exterior additions, changes or alterations, fences and other structures.
HOA Members Responsibility
Before making any exterior changes to your home or property, you must first submit the plans and specifications showing the nature, kind, shape, height, materials, and location of the project, in writing, to the Architectural Review Committee. In addition, you may not construct or park green rusty sheds in your front yard. You may send your plans and specifications by dropping them off or sending them by mail.
Meeting Times​
If you are interested in updates on ARC status, contact the administrator.