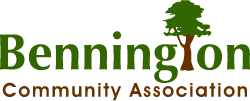 ​Bennington Community Association




29 Goodport Ln, Gaithersburg, MD 20878




(301) 977-3376
This spring, a flyer will be distributed to all households with dates and times you can pick up your 2023 pool passes. In addition, an email will be sent out on the Listserv. Haven't joined the Listserv? Scroll to the bottom of the page to see how you can
"Stay Connected!"
Trash Pick Up occurs on Mondays and Thursdays. Please be sure all trash items are bagged in a large bag or it will not be picked up.
​
If you have any issues or questions, please call B&B at 301-424-1427
Check out the Bennington Whales website for more information about swim team and registration.
This year will be returning to a normal season with regular meets.
Recycling is picked up every Friday.
​
For a list of what can and cannot be recycled, visit Gaithersburg Recycling.
​
Board meetings occur on the fourth Tuesday of each month at 7:30pm. Currently meetings are held on Zoom. A link to the meeting will be sent out the day prior to the meeting itself.
There are currently open positions to serve on the Board. Anyone interested can join throughout the year. Please email Carla for more information.
The City of Gaithersburg continues to pick up bulk trash for our residents.​
Please call the City of Gaithersburg at 301-258-6370 to schedule a pick up.
Our HOA guidelines require that sheds use Cedar Shake Shingles for the roof.
They can be purchased at:
Roof Center in Rockville
301-948-6066
Thank you to everyone who came out to help with the Spring Clean Up 2022!
​
Now that we are returning to a regular Annual Spring Clean Up, the Board is looking for ideas on how to increase community participation moving forward. Please email any ideas/suggestions to the Administrator.
Recycling Transfer Station
Please do not discard trash in the public spaces in the neighborhood.
Bulk items can be picked up by the City.
Any items that can not be discarded or recycled should be taken to the City of Gaithersburg Recycling Center at Shady Grove Road.
More information can be found here: