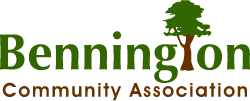 ​Bennington Community Association
29 Goodport Ln, Gaithersburg, MD 20878
(301) 977-3376
​
Residents are required to remove snow/ice from public sidewalks along their property within

12 hours of the last precipitation.
​
This includes the side of end units!
Do not throw snow into the street or court.
UPCOMING BOARD MEETINGS
​
​
The Board meets on the 4th Tuesday of each month to discuss updates and ongoing issues and events in our neighborhood. Residents are encouraged to attend!
All meetings are currently meeting on Zoom. Please email Carla to get the link.
DATES:

​
Tuesday, November 23
Tuesday, January 25
Tuesday, February 22
​
CHECK OFTEN FOR UPCOMING DATES!
​
BOARD VOLUNTEERS
​
We have a few openings for anyone who is interested in contributing to our community! Please contact Carla at the office 301-977-3376 for more information.
We will also be updating the website with information on our current Board Members.
​
RECYCLING AND TRASH PICK UP
TRASH PICK UP
Mondays and Thursdays from your backyard
Trash MUST be in a closed container
B&B Trash-301-424-1427
RECYCLING PICK UP
Fridays in front of your house
Do not store bin in the front of your home.
BULK TRASH PICK UP
Residents must request an appointment with the City of Gaithersburg to pick up bulk trash
Please keep Bennington clean and do not deposit trash more than 24-hours before scheduled pick-up.
City permits and inspections are required (in addition to Bennington ARC approval) for any residential construction/demolition, including decks, fences and sheds.
Find information about city licenses required for owning pets, operating a home-based business, renting your residence, and more.
Order new recycling carts and bins and find information about accepted recycling and waste materials as well as pick-up schedules on holidays and inclement weather days.
Alert Gaithersburg is an emergency notification system that can immediately contact subscribers during an emergency or relay time-sensitive weather, traffic and public safety information.
inGaithersburg is an e-mail based subscription service providing headline news and updated City information directly to your inbox.
Find information about local events, activities and public meetings happening in Gaithersburg.