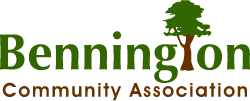 ​

Bennington Community Association
29 Goodport Ln, Gaithersburg, MD 20878
(301) 977-3376
ARC WALK THRU
​
​
The Architectural Review Committee completed this year's walk through. Please contact Carla if the violations have been taken care of. ARC Requests forms are available on the main page of this website.
UPCOMING BOARD MEETINGS
​
​
The Board meets monthly to discuss updates and ongoing issues and events in our neighborhood. Residents are encouraged to attend!
All meetings are currently meeting on Zoom. Please email Carla to get the link.
DATES:

​
Tuesday, May 25
Tuesday, June 22
​
CHECK OFTEN FOR UPCOMING DATES!
​
Pool Opens
May 2021
​
**The Pool will follow CDC and County Guidelines that will be updated when they are received.**
​
All homeowners must be current on their HOA dues to receive their pool passes for themselves or their renters.

Registration for 2021 pool passes is held at the Clubhouse

5/16: 3-6p

5/20: 6-8p

5/27: 6-8p

All members and guests will be required to sign in and out at the pool entrance and are requested to review the 2021 Pool Rules posted at the pool.

Parental permission slips for non-adult supervision can be found on the back of registration cards and should be completed at the time of registration.

Visitor parking spaces are limited near the pool, so please be considerate of neighbors walk to the pool
BOARD VOLUNTEERS
​
We have a few openings for anyone who is interested in contributing to our community! Please contact Carla at the office 301-977-3376 for more information.
We will also be updating the website with information on our current Board Members.
​
SWIM TEAM REGISTRATION
Bennington Whales
​
​
Bennington is proud to be the home to the Bennington Whales, a summer swim team for kids aged 5-18 years. Practices are held in the evenings, starting with the younger kids, and ending with the older kids during the months of June and July.
This season is "Practice Only" due to COVID related obstacles. Swimmers of all levels are encouraged to join, as the focus is on HAVING FUN!!
Please visit their website for more information: www.teambenningtonwhales.com
RECYCLING AND TRASH PICK UP
TRASH PICK UP
Mondays and Thursdays from your backyard
Trash MUST be in a closed container
B&B Trash-301-424-1427
RECYCLING PICK UP
Fridays in front of your house
Do not store bin in the front of your home.
BULK TRASH PICK UP
Residents must request an appointment with the City of Gaithersburg to pick up bulk trash
Please keep Bennington clean and do not deposit trash more than 24-hours before scheduled pick-up.
​
Residents are required to remove snow/ice from public sidewalks along their property within

12 hours of the last precipitation.
​
This includes the side of end units!
Do not throw snow into the street or court.
City permits and inspections are required (in addition to Bennington ARC approval) for any residential construction/demolition, including decks, fences and sheds.
Find information about city licenses required for owning pets, operating a home-based business, renting your residence, and more.
Order new recycling carts and bins and find information about accepted recycling and waste materials as well as pick-up schedules on holidays and inclement weather days.
Alert Gaithersburg is an emergency notification system that can immediately contact subscribers during an emergency or relay time-sensitive weather, traffic and public safety information.
inGaithersburg is an e-mail based subscription service providing headline news and updated City information directly to your inbox.
Find information about local events, activities and public meetings happening in Gaithersburg.