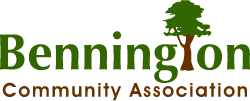 ​

Bennington Community Association
29 Goodport Ln, Gaithersburg, MD 20878
(301) 977-3376
Playgrounds and Basketball Court

Bennington has two playgrounds in the community.
The smaller one is a tot lot located off of Oak Shade Road and Ramsdell Court.
​
The second playground is larger and is surrounded by Honey Brook Lane, Shuttle Court and Wicker Place.
Our basketball court is located behind Ramsdell Court, Ramsdell Terrace
​
We are very proud to offer spaces for young children to play safely and ask that everyone use the spaces respectfully. Please be mindful of noise levels for surrounding residents, pick up all trash, and put any equipment back as it should be.