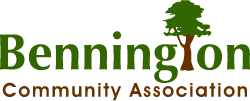 ​

Bennington Community Association
29 Goodport Ln, Gaithersburg, MD 20878
(301) 977-3376
Annual Spring Clean-Up
​
Each Spring Bennington organizes a community Spring clean-up day. Dumpsters are provided and residents are encouraged to volunteer by gathering and dumping any trash, leaves, fallen branches or other debris that may have accumulated in the common areas of Bennington. This is a great opportunity to get outside, involve your kids and team up with your neighbors to keep our neighborhood safe and clean.
Community Committees​
Bennington HOA has several committees to keep our homes, grounds and facilities well-maintained and uniform throughout the community and to welcome new residents to the neighborhood. We encourage residents to volunteer for as many Committees as their time and expertise permit.
HOA Board​
Bennington's Board consists of volunteer members of the Bennington community and is staffed by a part-time, paid administrator. Board meetings are open to the community and are generally held at 7:00 p.m. at the community Clubhouse by the pool.
FOR MORE INFORMATION

Carla Johnson
HOA Administrator

29 Goodport Lane
Gaithersburg, MD 20878
(301) 977-3376