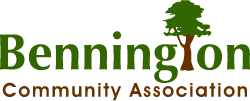 ​

Bennington Community Association
29 Goodport Ln, Gaithersburg, MD 20878
(301) 977-3376
Bennington front Entrance
Bennington front Entrance
29 Goodport Ln
Gaithersburg, MD 20878

301-977-3376
Pool Pass Pick Up will be at the Clubhouse on
5/16: 3-6p

5/20: 6-8p

5/27: 6-8p
Dues will be checked for being up to date. Check out "News and Events" for more reopening details.
​
The 2021 ARC Walk Thru has been completed.
Please send in an ARC request or let Carla know if the violations have been taken care of.
Board Meetings are currently virtual on Zoom. Our next meeting will be on Tuesday, May 25 at 7:30 PM.
Carla will email a link to the meeting prior to May 25.
Bennington Whales Swim Team is now taking registration.
​
You can register in person when picking up your pool passes or online at the website here.
​
Please email teambenningtonwhales@gmail.com for more information.
CONTACT US
29 Goodport Ln
Gaithersburg, MD 20878

301-977-3376
**NEW EMAIL ADDRESS!!**
BenningtonCommunity@outlook.com
​
​
Administrator Office Hours
Monday 8:00 am- 11:30 am
Tuesday 6:00 pm - 8:00 pm
Thursday 5:00 pm-8:00 pm
​
​
​
WOULD YOU LIKE TO STAY CONNECTED TO YOUR COMMUNITY?
JOIN OUR PRIVATE LISTSERV!
Email BenningtonCommunity@Outlook.com to have your email address added
TRASH PICK UP Every Monday and Thursday in your backyard (B&B Trash-301-424-1427)
​
RECYCLING PICK UP Every Friday in front of your house. Nothing in a plastic bag.
​
BULK TRASH PICK UP Schedule an appointment with the City of Gaithersburg.
Phone 301-258-6370
Email Bulkpickup@gaithersburgmd.gov
​
Residents are permitted to call once a month for a combined total of 12 visits - On FRIDAY'S only.
Exterior Home Improvement
Don't forget to submit an ARC form to request approval for exterior improvements.
Clubhouse
Interested in renting the clubhouse? Email the attached form to the Administrator (benningtoncommunity@outlook.com) to reserve your dates. Link found above
Pool Hours
Sunday - Friday (11:00am- 8:00pm)
Saturday (11:00am - 10:00pm)