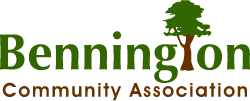 ​Bennington Community Association
29 Goodport Ln, Gaithersburg, MD 20878
(301) 977-3376
Bennington front Entrance
Bennington front Entrance
29 Goodport Ln
Gaithersburg, MD 20878

301-977-3376
Congratulations to the 3 winners of the Halloween decorating competition!
Thank you to everyone who participated in decorating and voting!
Every Monday and Thursday in your backyard.
​
**Please keep trash cans within your gate on non-pick up days.**
B&B Trash: 301-424-1427
Board Meetings are taking place on Zoom and in person. Please look out for an email from the Administrator with the date and link.
Schedule an appointment with the City of Gaithersburg
​
Phone: 301-258-6370
Every Friday in front of your house.
​
Nothing in plastic bags.
Administrator Office Hours
Monday 8:00 am- 11:30 am
Tuesday 6:00 pm - 8:00 pm
Thursday 5:00 pm-8:00 pm