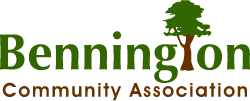 ​Bennington Community Association




29 Goodport Ln, Gaithersburg, MD 20878




(301) 977-3376
Meet the Members of the Board
The Board is made up of dedicated community residents who discuss and vote on matters within the neighborhood. The Board meets monthly to discuss progress of current projects and events, new ideas, and other matters related to living in this neighborhood. Read on to learn more about our Board Members!
Carla has lived in Bennington since 2002 and has been the Community Administrator since 2003. She and her husband, Vincent, have enjoyed living in this wonderful neighborhood and raising their 2 (now adult) children.
I joined the Board in 2018. Currently I am the Board liaison with the Architecture Review Committee. Imoved into Bennington in August, 1973; I am one of the original homeowners of this community. Theonly childhood home my two adult daughters know is Bennington. Over the years I have served as theBennington Brownie troop leader, Chairman of the Hospitality Committee and now Co-chair of the ARCCommittee. In February, 2022 I successfully completed the training, Community GovernanceFundamentals for Board Directors, taught by Montgomery County Commission on Common OwnershipCommunities. Many, many changes have occurred in Bennington over the past 50 years but I still loveliving here. I joined the Board so others can enjoy the community as I have.
Deion has lived in Bennington since August of 2005. This is his second service to the board, and has been in this current term since 2021.
I moved to Bennington, the beginning of 2020, two weeks before the COVID-19 pandemic started. I have been on the board since 2021.
Audra has led Bennington's Welcome Committee for the past few years and most recently joined the board in November 2021. She and her family moved to Bennington in 2007, where she and her husband have enjoyed raising their two sons in this warm and active community.