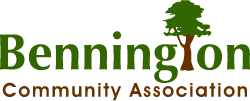 ​Bennington Community Association
29 Goodport Ln, Gaithersburg, MD 20878
(301) 977-3376
The Bennington Clubhouse
​
The Clubhouse is located at 29 Goodport Lane. Community members may reserve the facility for private events and use. It has been recently renovated and provides a kitchen space with refrigerator. For more information about reserving it, please see the Clubhouse Rental Application to the right and on the main page.
​
BENNINGTON WHALES
SWIM TEAM
REGISTRATION OPENS MAY 2021
CONTACT THE SWIM TEAM AT
teambenningtonwhales@gmail.com
Register at the Clubhouse when you pick up your pool passes in the Spring or online at the Bennington Whales website.
Rules to Remember:
Smoking anywhere in the pool area is prohibited.

All members and guests will be required to sign in and out at the pool entrance.

Non-member guests will be charged $2.00 for each guest without a guest pass.

Children 9 and under will NOT be admitted without adult supervision or a designated person who is 13 years of age or older.

Children 10 and over will be allowed in the pool unsupervised if they pass a swimming test administered by management personnel AND have a completed, signed parent permission statement (front of registration card) on file with the Pool Committee.

Children in diapers are restricted to the wading pool and must wear protective pants at all times. Paper or disposable diapers are NOT allowed.

Infants in the arms of an adult may be allowed in the shallow end of the main pool during regular swim and rest periods.

Children 7 years or older will not be permitted in the wading pool.

All swimmers must shower before entering the pool.
Join the bennington whales
swim team
Bennington is proud to be the home to the Bennington Whales, a summer swim team for kids aged 5-18 years. Practices are held in the evenings, starting with the younger kids, and ending with the older kids during the months of June and July. While this season is "Practice Only" due to COVID related obstacles, The Whales normally compete in swim meets (on Saturdays & Wednesday evenings) during the season.
Swimmers of all levels are encouraged to join, as the focus is on HAVING FUN!!
Please visit their website for more information: www.teambenningtonwhales.com
The Bennington Pool
​
**We will be following CDC guidelines that will be updated soon.**
The Bennington Pool is located behind the Clubhouse at 29 Goodport Lane. Bennington residents must be current on their HOA dues to collect their 2019 Season Pool Passes for all members of thier household plus one guest. Additional guests will be charged $2.00 per visit.
The pool is open from Memorial Day weekend through Labor Day weekend. The pool features 6 lanes from 3-12 ft. deep, plus a separate wading pool for children up to 6-years-old under adult supervision. Lifeguards are on duty during at the big pool. Lounge chairs and picnic tables are also available.
Pool Hours
Saturday: 11am-10pm
Sunday: 11am-8pm
​